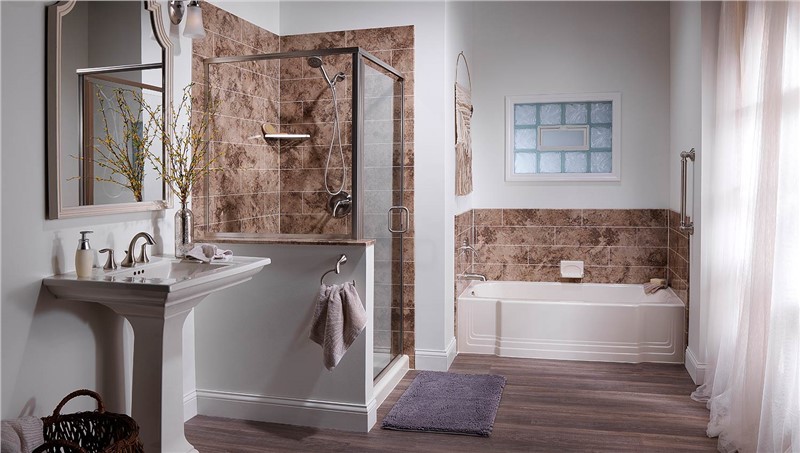 Your bathroom is an essential part of your home. It's a room that is used every day, multiple times a day. Your bathroom needs to be as functional as possible. When deciding on your bathtub or shower in your master bathroom, you have a few different options. You could go for the traditional-sized bathtub, shower, or a combination of both.
At Bath Planet, we aim to help customers make their bathrooms as beautiful and functional as possible. Not only do we offer traditional bathtubs and showers, but we can create a customized solution we know you'll love. Our bath solutions come in various sizes, so you can make your bathtub or shower the centerpiece of your larger master bathroom.
How Do I Choose The Right Size Bath?
Your bathtub or shower is the centerpiece of your bathroom. When creating your dream master bathroom, consider a more extensive option with our 5.5-foot replacement tubs or 6ft by 4ft showers. We also offer polymer bases for your replacement shower up to 10 ft. in length. Some of our other oversized shower and replacement tub options include:
Various Colors and Patterns
Selection of Tub Skirt Styles
Custom Shower Walls
Factory-trained and Certified Installation
Should I Combine My Shower and Bath?
Combining your shower and bath is another great option if you're looking to save some space for other master bathroom add-ons. Some of our combination shower and replacement tub options include:
Standard Bathtub Replacement
Soaker Bathtub and Shower
Walk-In Bathtub and Shower
Walk-in Shower
Roll-in Shower
If space allows, another option is the replacement of a side-by-side bathtub and a small shower combination with extra-large shower space and measured shower walls. This combination is a spacious, luxurious bath experience that provides extra convenience and accessibility options.
Does Bath Planet Have the Solution for Me?
No matter what style you want for your master bathroom, Bath Planet can help you achieve it. Our inventory of colors, patterns, wall surrounds, accessories, seats, storage, grab bars, fixtures and safety products will create a look you will love for your bathroom. We offer endless possibilities for your dream bathroom. Our team would be happy to assist you in custom-creating the master bathroom you deserve!
---