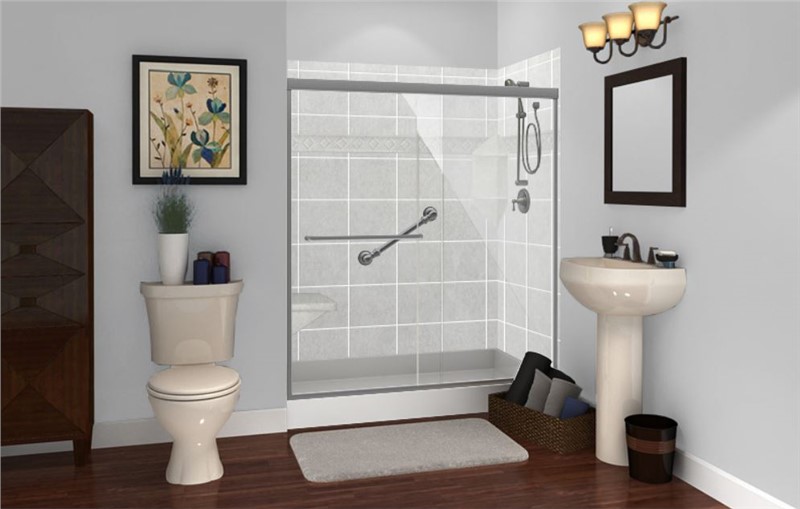 Are you drawn to the timeless elegance of traditional interior design? There are a number of ways to bring this comforting and sophisticated aesthetic into your bath space! With a marble-like tub enclosure and sleek brushed nickel finishings, you can create a truly beautiful bathroom retreat. The design specialists at Bath Planet have the top-tier experience and product offerings needed to deliver your ideal remodel.
Below are some ideas for designing a traditional-style bath:
Opt for Light Granite or Marble-Style Textures
In order to truly channel the elegance of the traditional style, choose a classic light stone look for your bath surround. We offer beautiful Calcutta Marble and Bianco Travertine wall colors available in a timeless subway or hexagonal tile-like pattern. The sophisticated appearance of our bath surround products creates the perfect fusion between modern style and old European aesthetics. The clean look of your new shower or tub space will elevate the rest of the room!
Use a Soft Neutral Color Palette
To create a traditional-style bath, stick with a soft neutral color palette for the foundation of your design. Bath Planet provides a wide selection of light tub and shower base colors to accomplish this look. White, almond, and biscuit are fantastic options to give the space an airy, refreshing feel. You can continue to carry this palette into the rest of your bathroom with a complementary light tan, grey, or white paint color.
Complement the Design with Bronze or Brushed Nickel Hardware
When it comes to building a cohesive design for your bathroom, don't forget the details! Bath Planet offers a variety of customizable bath hardware options that can be integrated into your chosen aesthetic. For showerheads, faucets, drains, and enclosure framing, we recommend a bronze or brushed nickel finish. These metal accents throughout your bath space will help to tie the look together.
Finish the Look with Matching Accessories
Since it's easier to swap accessories in and out, this is the perfect place to bring in a punch of color or interesting artwork. Add a beautiful vase with flowers or greenery, or complete your bathroom design with a set of plush, decorative hand and bath towels. Bath Planet can also increase the luxury of your bathing experience with high-end accessories like built-in seating and convenient shelving.
Find Out More About a Traditional Bath Renovation Now
The experienced design team at Bath Planet is here to create the bath renovation of your dreams! Our tub and shower replacements are built out of long-lasting, mold-resistant acrylic. Call now to find out more about our bath remodel services, or fill out our quick online form to request a free, no-commitment cost estimate.
---