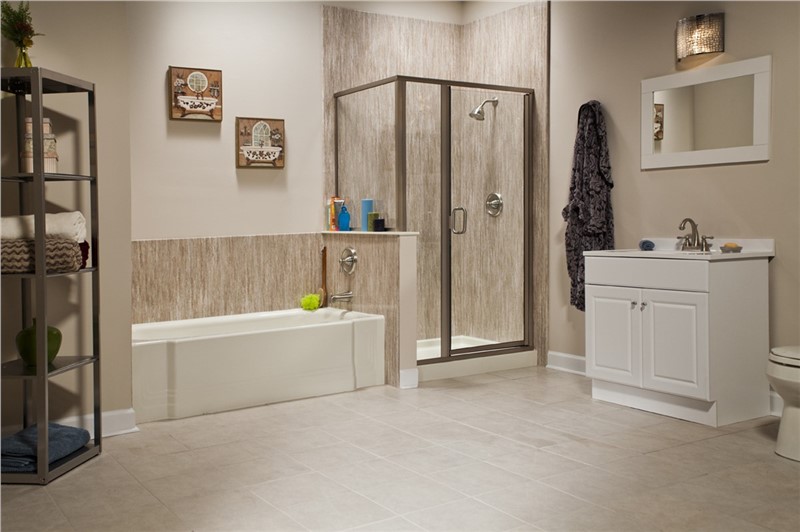 You want to freshen up the style of your bathroom, but you don't want to spend a fortune to do it. The good news is that by focusing on the wet areas of the space, it's easy to give your bathroom a whole new look quickly and affordably.
A trend that's hot right now is nature-inspired bathing areas—and it's easy to see why. Bringing the outdoors in or paying homage to your favorite outdoor spaces creates a relaxing atmosphere and, when done right, Insta-worthy visuals.
Here are some tips for revamping your bathing area in a nature-inspired way.
The Color Palette
As with any good design, it starts with the right color palette, and when nature is your inspiration, the possibilities are endless! From the shades of sky and ocean blue of your favorite beach to the greens and browns you encounter on a mountain hike, it's easy to incorporate the colors you love most in to your nature-inspired bathing area.
The Natural Look of Stone
It makes sense that if you want a nature-inspired bathroom that the natural look of stone would be an excellent addition to the space—but it doesn't fit into the budget-friendly part of the plan. Bath Planet offers a selection of bath surrounds that beautifully mimic the look of stone.
Valencia
Granite

Coastal
Stone




River
Rock
The options fit into any natural color palette scheme since the looks come straight from nature. Shades of blues, gray, and browns can be found throughout the collection which includes Valencia Granite, River Rock, Coastal Stone, and more.
A stone-look surround is the perfect backdrop for the rest of the space and will serve as an eye-catching focal point in your updated bathroom.
Once you've selected your stone surround, match it with a coordinating shower base and fixtures. For predominantly gray stone, choose a white or gray tub or shower base and brushed nickel fixtures. If the stone you've chosen is mostly brown, consider an almond or sandbar tub or shower base and oil rubbed bronze fixtures.
Accessories
Your bathroom remodel has to be functional as well as beautiful, so consider adding optional accessories to your new tub or shower. Bath Planet offers grab bars, a shower foot rest, built-in caddies, shelving, and more.
Finishing Touches
To pull the look of the entire space together and further reinforce your nature theme, bring in plants, nature prints, and accessories such as a basket of shells, bottles of sand, or anything else that calls to mind time spend in nature.
Ready to get started? Contact Bath Planet to learn more about our products and to schedule a no-cost, in-home design consultation. Just give us a call today or fill out our online form now to get started.
---