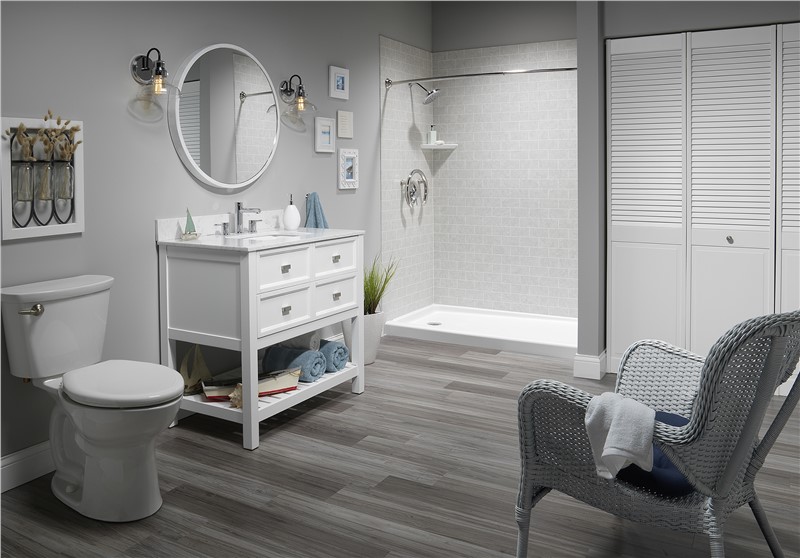 There's no doubt that bathroom remodeling is one of the best home improvement projects available for boosting your home's value. According to Zillow, the average standard bathroom remodels cost over $19,000 in 2019, with an average return of around $13,422. However, there are many ways to improve your bathroom without doing a full renovation, which isn't always necessary. Unless your entire bathroom is falling apart from floor-to-ceiling, homeowners should focus on improving just the areas that need the most attention—like the wet area of the bathroom.
Wet area remodels are fast, affordable, and can be the best way to invest in your home without spending the time and money that a full bathroom overhaul requires. In this blog, our team at Bath Planet will discuss some of the best ways to improve your bathroom with a simple yet impactful wet area renovation.
The Wet Area: The Most Important Part of the Bathroom
When it comes to maintenance and upkeep of our bathrooms, the wet area—or the area consisting of the shower, tub, and the floors and walls surrounding these installations—is arguably the most important part of the space. While your toilet, sink, and vanity are also important aspects of the bathroom, the wet area requires more consideration to keep clean and free of water damage, mold and mildew growth, and general deterioration.
If you're like most homeowners, the wet area is likely the part of the bathroom that needs the most help. Today's newest bathroom products are designed for hard water use, are practically indestructible, and infused with advanced technology features like Microban, which resists mold and mildew growth. Replacing old and deteriorating wet area fixtures can instantly improve your entire bathroom space, while making it a healthier place to get clean and more attractive, all at once.
Quick and Affordable Wet Area Remodeling Ideas
There are a number of excellent projects that homeowners can take advantage of, depending on the current state of their existing wet area and what they're hoping to improve with a renovation. Here are some of the most popular projects we take on at Bath Planet throughout the year that focus on improving features inside the wet area, most of which can be completed in just one day's time:
Exceptional Bathroom Remodeling Solutions at Bath Planet
At Bath Planet, we're committed to providing our customers with the highest quality products at the lowest possible prices. All of our bathroom remodeling products are backed by excellent warranties, and have been tested and approved with the nationally-renowned Good Housekeeping Seal of Approval. If you're interested in learning more about Bath Planet and its premium quality products for bathroom remodeling, don't hesitate to give us a call now to speak with an agent. We'd love to speak with you about transforming your bathroom into a gleaming, beautiful masterpiece in as little as just one day, and at a price you'll love. To request a free, in-home pricing estimate and consultation with one of our team members, fill out our online form to get started.
---
Comments