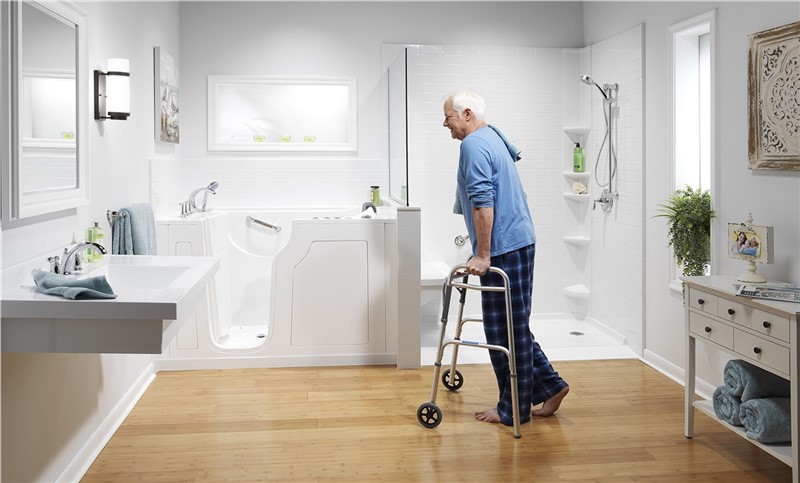 It's a well-known fact that bathrooms can be dangerous places—but did you know that slips and falls are one of the leading causes of injuries and even deaths in the United States? The slippery, soap-scum covered floors of your bathtub, shower, and tiled floors are frequently the cause of these terrible accidents, making the bathroom one of the most dangerous places in your home. This is especially true if you suffer from low mobility—and the elderly and handicapped members of yosur home are at a higher risk for suffering an accident in the bathroom than others.
One of the most popular trends in bathroom remodeling today is walk-in tub installation. Walk-in bathtubs make it easier and safer for household members to bathe, with low-entry thresholds that substantially lower the risk of serious injury or death. Whether you're struggling to remain independent in the bathroom, or simply want a safer and more secure place to take a bath, walk-in tubs are a home feature worth looking into.
In this article, we'll go over some of the most frequently asked questions we receive from our customers about walk-in tubs and walk-in tub installation. If you're interested in a walk-in tub to improve your bathroom, this information from our Bath Planet will help you make the right decision.
What Kind of Household Might Benefit from a Walk-In Tub Installation?
Everyone can stand to benefit from a safer bathing environment—but there are people that have higher risk of falling in the bathtub. These include parents with babies and young children, the elderly, and handicapped members of the family. The added security of important features such as non-slip surfaces, low-entry thresholds, a door for entering and exiting the bath, and easy-to-reach controls are just some of the reasons why people might choose to add a walk-in tub to their daily routine at home.
Are Walk-In Tubs Expensive?
Walk-in tubs come in a wide range of models to choose from and can be customized to suit your needs and budget. That said, some types of walk-in tubs can be expensive, while others can be surprisingly affordable.
While it's hard to give a solid estimate without knowing specifics, most walk-in tubs have price tags that range somewhere between $1,500 and $5,000. This number will vary depending on many factors. A reputable bathroom remodeling company can help you find the best choices for walk-in tubs that meet both your budget and lifestyle preferences.
Why Are Walk-In Tubs Safer Than Traditional Bathtubs?
The most important feature that walk-in tubs have that traditional tubs do not is a watertight door entrance and low threshold. This makes it extremely easy for anyone to walk in and out. Walk-in tubs can also be customized to facilitate bathing independently for people in wheelchairs, with a slip-transfer entrance built into the tub doorway.
Beyond the watertight door feature, these products are made with slip-resistant surfaces and other highlights that ensure safe and secure bathing. Grab bars and handles can be installed at your desired reach, and height-perfect faucets and controls can be added based on your needs and preferences. If desired, you can also choose a call button in case of an emergency.
What Are Some of the Health Benefits of Using a Walk-In Tub?
Walk-in tubs can be an excellent way for household members to relieve aches, pains, and muscle tension. Those suffering from symptoms from a range of illnesses—from diabetes and arthritis to fibromyalgia and rheumatism can find relief from a hot soak in the tub.
In addition, walk-in tubs can relieve stress, tension, and anxiety. With optional chromatherapy, hydrotherapy, and aquatic massage functions, a hot bath can bring peace of mind and relaxation for just about anyone.
Will a Walk-In Tub Match My Current Bathroom Décor and Style?
One of the most frequent questions we're asked at Bath Planet about our walk-in tubs has to do with style and aesthetics. Walk-in tubs come in a wide variety of styles, colors, and models—and we can choose one that meets your preferences and current bathroom décor.
For those dreaming of enjoying a nice, hot bath in a walk-in tub, get started planning your quick and easy installation now. At Bath Planet, we're your top experts in walk-in tub installation, and can help you find the perfect bathroom remodeling products that meet your style, budget, and safety preferences.
If you'd like more information, give us a call to speak with an agent now. Or, to get started with a free, in-home pricing estimate for your walk-in tub installation, fill out our online form and a representative from Bath Planet will contact you shortly.
---
Comments