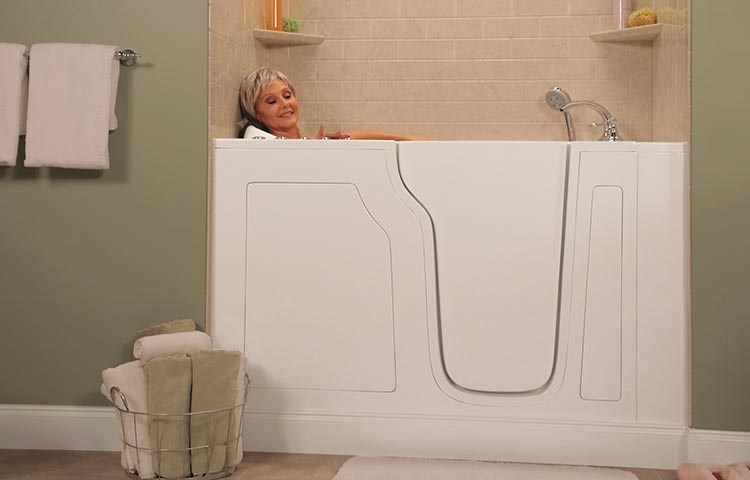 Facing any type of mobility challenge is not something that any of us look forward to. Unfortunately, they do come up, especially for those at an advanced age. We understand that for those with these challenges, maneuvering in the bathroom can be extremely difficult and dangerous. For example, taking a bath in a traditional bathtub requires you to balance on one foot just to step inside. This is not something that you should be trying to do if you suffer from mobility issues. Here at Bath Planet, we understand that no one wants to ask for help just to take a bath or a shower. This is why we offer the highest quality accessibility products, including our popular walk-in tubs.
With the help of our walk-in tubs, many of our satisfied customers have regained their bathing independence. They no longer have to contemplate selling their home and moving to a nursing or assisted living center. Instead, they can stay in the comforts of their own home and take a relaxing bath whenever they feel like it and you don't have to risk a fall just to take a bath. All you need to do is open the tub door, enter, and relax. Our tubs include a low threshold and other safety features to give you a safer and more relaxing bathing experience.
Our dual massage system gives your body a penetrating deep muscle massage with hydrotherapy jets and soothes the mind with an effervescence air-bath. By infusing the water with heated air, you'll enjoy a warm, calming bath that will leave you feeling 100% refreshed and relaxed. Our selection of walk-in tubs will fit into all standard bathtub openings while providing you with safety and convenience of walk-in accessibility. At Bath Planet, we make sure to only put our trusted name on the highest quality products. We use the thickest acrylic material possible and our products are non-porous and easy to clean. We know our products are some of the very best in the industry, which is why we proudly stand behind them with a limited lifetime warranty. Don't let bathing become a dangerous experience for you, instead look to Bath Planet for your premier accessible bathing products.
---
Comments